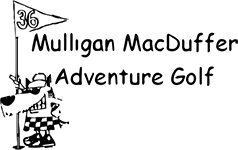 Mulligan MacDuffer's Adventure Gold
1360 Baltimore Pike • 717-337-1518
Send Email
www.mulliganmacduffer.com

Mulligan MacDuffer Adventure Golf is miniature golf at its finest! Mulligan MacDuffer's offers two 18-hole courses spread across four acres of immaculate landscaping, with an engaging variety of water features and hazards. After a challenging round of golf, enjoy and ice cream treat in the Clubhouse.