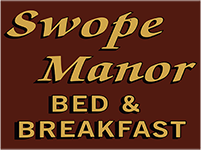 Swope Manor
58-60 York Street • 888-963-9714
Send Email
www.theswopemanor.com

Take a load off at one of Gettysburg's most luxurious properties while enjoying some of its rich history. Built in 1836, the building saw intense action during the Battle of Gettysburg and is now a fully-serviced inn. With six suites, seven chamber rooms, private baths, dining, and convenient parking, the Swope Manor is your Gettysburg destination for comfort.