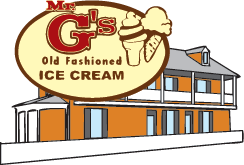 Mr. G's Old Fashioned Ice Cream
404 Baltimore Street • 717-334-7600
Send Email

Ready for a break from the battlefield? Stop in at this local favorite for a sweet treat that is sure to tantalize your taste buds. Mr. G's offers delicious homemade ice cream, milkshakes and sundaes. Flavors change daily!